Lynne Sachs • U.S. • 2017 • 4 min.
Lynne Sachs
U.S. • 2017 • 4 min.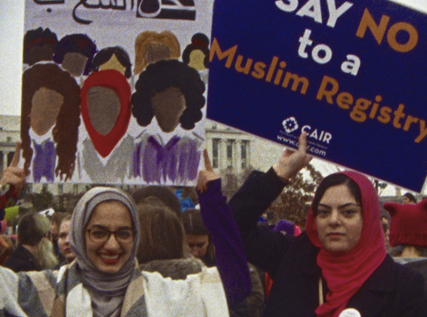 Filmmaker Lynne Sachs shoots Super 8mm film of the 2017 Women's March in Washington, D.C. and intercuts this recent footage with archival material of early 20th Century Suffragists marching for the right to vote, 1960s antiwar activists and 1970s advocates for the Equal Rights Amendment. She then talks about the experience of marching with her seven-year old neighbor who offers her own observations on the meaning of their shared actions.
Grand Prix National Competition
Festival du Nouveau Cinéma. Canada (2020)
Other Cinema, San Francisco. U.S.
Workers Unite Film Festival. U.S.  
KOSMA Gwangju International organized by the Korean Society of Media & Arts. U.S.
Microscope Gallery, NYC. U.S.
MAMBA Museo de Arte Moderno Buenos Aires. Argentina
SCREENWRITER
Mike Hoolboom
PRODUCER
Mike Hoolboom
DIRECTOR OF PHOTOGRAPHY
Mike Hoolboom
ADDITIONAL CAMERA
Nicholas Kovats
Emma O'Brien
John Price
Aaron Rotenberg
SOUND
Mike Hoolboom
EDITING
Mike Hoolboom
FESTIVALS & SALES
María Vera (Kino Rebelde)