COLLECTIVE UNCONSCIOUS IN CINEMA
LA SOMBRA INVERTIDA.
INCONSCIENTE COLECTIVO DEL CINE
Lucas Turturro • Argentina
2014/2016 • Three-channel video installation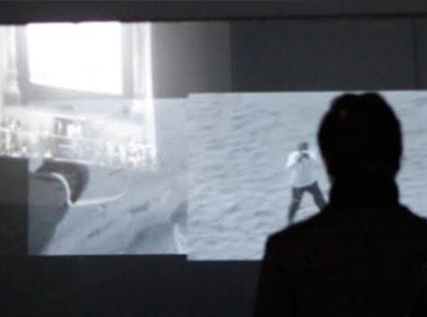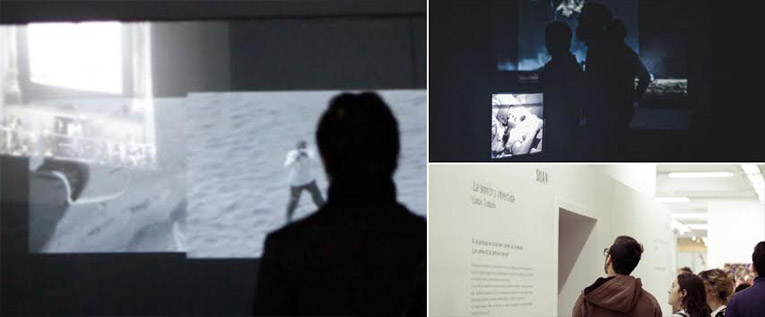 The work is a video installation composed of multiple screens, projecting a compilation of dreams in movies. The images of the dreams are from different times and places, such as "Spellbound" by Hitchcock or "Smultronstället" by Bergman.

The viewers are immersed in that space, exploring and experiencing what we call the "collective unconscious of film". These images-dreams are projected onto the screens that are strategically located within the space; images dialogue as if they were a visual orchestra, providing viewers a cyclical story that everyone perceives in a non-transferable way, interpreting and making an exercise of truthfulness.

In the center of the room there is a large glass panel posing a question: What do the dreams in the film tell us? This crystal, seen from the front, allows us to see through to the main screen, where the dreams happen. But it becomes a trap, when the spectators move behind the crystal, and discover that the glass is a large mirror, that doubles the projection into two virtual images and reflects the viewer into a dream.
Telefónica Foundation. Coordinators: Rodrigo Alonso and Mariano Sardón.
The Museum of Contemporary Art of Buenos Aires, MACBA
Argentina, July 2014. Curated by Malena Souto Arenas
Haroldo Conti Cultural Center, Buenos Aires.
Argentina. November 2015 / February 2016.
Parque del Conocimiento, Misiones.
Argentina. May – July 2016.
Teatro Argentino de La Plata -TAE-
Argentina, 2016.