Lucas Turturro • Argentina • 2017 • Three-channel video installation
Lucas Turturro • Argentina
2017 • Three-channel video installation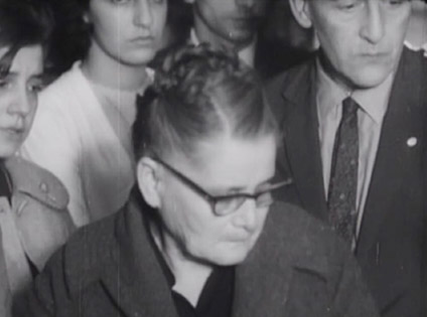 "The Weight of a Stone" is a video installation made of a series of videos in loop where the visitor finds the montage of a great and crowded funeral in which a dead person is never able to rest in peace. An absurd form of eternity. When the spectator starts paying attention, he/she will find out that this crowded funeral of the dead-no one-lets-to-rest-in-peace in fact is made with videos and filmic archives from the great Argentinian funerals. The long queues saying goodbye to Eva Perón, are mixed with the ones saying goodbye to Carlos Gardel and it goes on and on. "Phantom" images of the streets of Buenos Aires crowded with people weeping, moving wreaths, umbrellas, soldiers, priests, millions of flowers, great workmen caravans; long queues manipulated so that they seem to hold a vigil for only one dead body.

Something symbolic develops in this confusing symphony that always accompanies the movements of people doomed to eternal silence in this vague and sinister mise-en-scène that makes spectators shudder.

This is the infinite trip, cyclic and demoniacal, of the permanent transformation of this coffin being carried by people like Sisyphus, the absurdity hero, carries his stone.
Third Prize, "Installations and Alternative Media" Section
Salón Nacional de las Artes Visuales. Argentina (2018)
San Martín Cultural Center. Curated by Malena Souto Arenas
Buenos Aires, Argentina (2017)
PROYECTOR, Plataforma de Video Arte
Salamanca, Spain (2018)
Caraffa Fine Arts Museum
Córdoba, Argentina (2019)
ArtexArte, Alfonso and Luz Castillo Foundation.
Collective Showcase "CADÁVERES EXQUISITOS". Curated by Fernando Farina.
Artists: Nicola Costantino, Noemí Escandell, Leandro Katz, Daniel Ontiveros,
Daniel Santoro, Graciela Taquini, Lucas Turturro and Martín Weber.
Buenos Aires, Argentina (2019)