Joanna Reposi Garibaldi • Chile, Colombia • 2019 • 96 min.
Joanna Reposi Garibaldi
Chile, Colombia • 2019 • 96 min.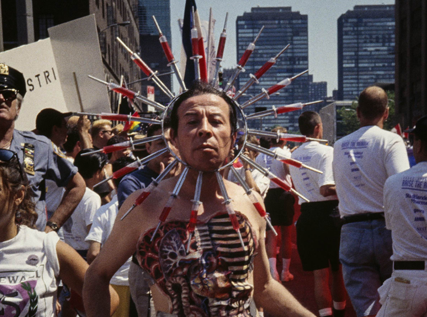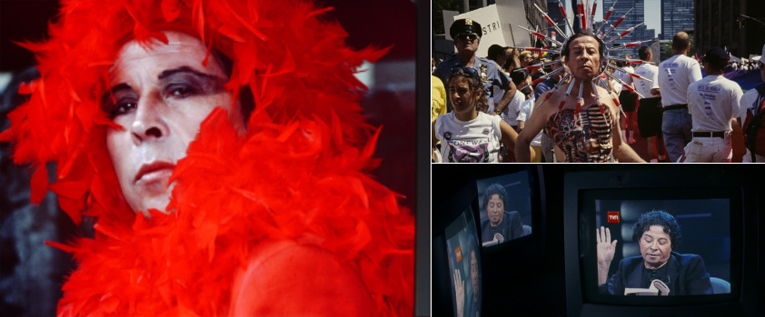 Writer, Visual Artist and pioneer of the Queer movement in Latin America, Pedro Lemebel shook up conservative Chilean society during Pinochet's dictatorship in the 1980s. Body, blood and fire were protagonists in his work that he attempted to perpetuate in the last eight years of his life in a film he was never able to see finished. In an intimate and poetic journey through his risky performances dealing with homosexuality and human rights, "Lemebel" portrays a culmination of yearning immortality.
First Cut Award
FIDOCS, Santiago de Chile Int'l Documentary Film Festival. Chile (2017)
Audio Post-production Award for WIP by SONAMOS
Chiledoc Conecta. Chile (2017)
Alphapanda Audience Engagement Award
Docs in Progress, Visions Du Réel. Switzerland (2018)
Teddy Award to Best Documentary / Essay Film
Berlinale, Berlin International Film Festival. Germany (2019)
Special Mention of the Jury to Best Documentary
Lima Film Festival. Peru (2019)
Best Chilean Film
SANFIC, Santiago International Film Festival. Chile (2019)
Audience Award
PANORAMICA, Stockholm Latin American Film Festival. Sweden (2019)
Best Feature Film / Cinema & Literature Competition
Trieste Latin American Film Festival. Italy (2019)
SICA Award to Best Filmmaking and Treatment of Social Content
Mar del Plata International Film Festival. Argentina (2019)
Special Mention of the Jury
Festival Film Dokumenter. Indonesia (2019)
Best Portrait
FIFA International Festival of Films on Art. Canada (2020)
Honorific Mention
OutFest Peru LGBTQ Film Festival. Peru (2020)
First Place · Best Long Feature Film (Pro & Ind)
On Art Film Festival. Poland (2020)
FESTIVALS & ALTERNATIVE SCREENINGS
Thessaloniki Documentary Festival. Greece (2019)
Premio Maguey, Guadalajara International Film Festival. Mexico (2019)
International Film Festival of Uruguay. (2019)
Lovers Torino LGBTQI Film Festival. Italy (2019)
Sheffield Doc/Fest. UK (2019)
AFI Latin American Film Festival. U.S. (2019)
Biarritz Latin American Film Festival. France (2019)
AluCine Latin Film & Media Arts Festival. Canada (2019)
Nuremberg Human Rights Film Festival. Germany (2019)
Scottish Queer Film Festival. Scotland (2019)
São Pablo International Film Festival. Brazil (2019)
Doclisboa International Film Festival. Portugal (2019)
Chéries-Chéris, Festival du Film LGBTQI+. France (2019)
MixCopenhagen LGTBQ Film Festival. Denmark (2019)
Queersitch Film Festival. Switzerland (2019)
IDFA, Int'l Documentary Film Festival Amsterdam. ‎‎Netherlands (2019)
Dart Barcelona, Contemporary Art Film Festival. Spain (2019)
This Human World, Int'l Human Rights Film Festival. Austria (2019)
International Queer & Migrant Film Festival. Netherlands (2019)
Havana Film Festival. Cuba (2019)
Rio Film Festival. Brazil (2019)
Pink Life QueerFest. Turkey (2020)
Neighboring Scenes: New Latin American Cinema. U.S. (2020)
One World Human Rights Film Festival. Romania (2020)
Festival de Cine LGBTIQ Centro Niemeyer. Spain (2020)
Wicked Queer Boston LGBTQ+ Film Festival. U.S. (2020)
DIRECTOR
Joanna Reposi Garibaldi
SCREENWRITER
Joanna Reposi Garibaldi
EXECUTIVE PRODUCER
Paz Urrutia
Paula Sáenz-Laguna
Joanna Reposi Garibaldi
PRODUCER
Paula Sáenz-Laguna
CO-PRODUCER
Señal Colombia
ASSISTANT DIRECTOR
Lissette Orozco
DIRECTOR OF PHOTOGRAPHY
Niles Atallah
SOUND
Roberto Espinoza
(Sonamos)
EDITING
Titi Viera-Gallo Chadwick
ORIGINAL SOUNDTRACK
Camilo Salinas
ARCHIVAL RESEARCH
Matías Valdivia
TEXTS
Manuel Maira
FESTIVALS MANAGER
María Vera (Kino Rebelde)
SALES AGENT
Paulina Portela
(Compañía de Cine)