NOTES, IMPRINTS (ON LOVE): PART I
NOTAS, ENCANTACIONES: PARTE I
Alexandra Cuesta • U.S., Ecuador • 2020 • 19 min.
Alexandra Cuesta
U.S., Ecuador • 2020 • 19 min.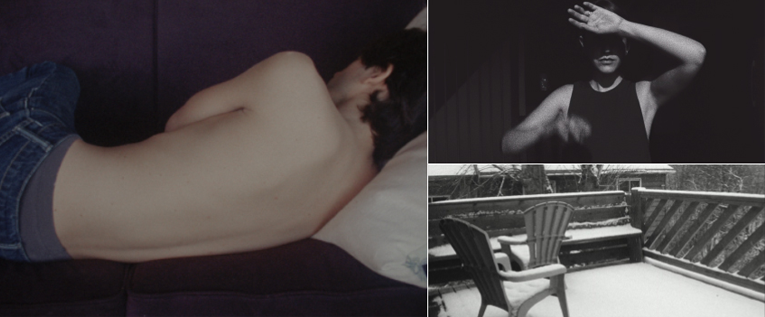 A foreign city, the filmmaker's surroundings, daily life. An accumulation of experiential instances that describe inhabiting a post-industrial landscape, the end of a love story, and the politics of the private and the public. The camera, as a device for recording and recollection, goes beyond evoking the past to become a tool for the appearance and exorcism of specters.
Shot over a span of three years (2015-2018) in Upstate New York, Chile, Japan, Los Angeles, the California Desert, Miami and Mexico City, this is the first film of a six part 16 mm series, that meditates on love and the act of making.
Punto de Vista International Documentary Film Festival. Spain (2020)
Curtas Vila do Conde International Film Festival. Portugal (2020)
FicValdivia, Valdivia International Film Festival. Chile (2020)
Festival du Nouveau Cinéma. Canada (2020)
Festifreak La Plata International Independent Film Festival. Argentina (2020)
Black Canvas Contemporary Film Festival. Mexico (2020)
Cámara Lúcida · Encuentros Cinematográficos. Ecuador (2020)
New York Film Festival. U.S. (2020)
Antofacine International Film Festival. Chile (2020)
Beirut Shorts Film Festival. Lebanon (2021)
IBIZACINEFEST International Independent Film Festival. Spain (2021)
Costa Rica International Film Festival. Costa Rica (2021)
Short Waves Film Festival | Spotlight: Kino Rebelde. Poland (2021)
Frontera-Sur, Festival Internacional de Cine de No Ficción. Chile (2021)
Open City Documentary Festival. UK (2021)
FRACTO Experimental Film Encounter. Germany (2021)
Bucharest International Experimental Film Festival. Romania (2021)
DIRECTOR
Alexandra Cuesta
SCREENWRITER
Alexandra Cuesta
PRODUCER
Alexandra Cuesta
DIRECTOR OF PHOTOGRAPHY
Alexandra Cuesta
SOUND DESIGN
Nicolás Fernández
EDITING
Alexandra Cuesta
LABORATORY
Color Lab
Fotokem
COLOR GRADING & MASTER
Daniel Andrade
Nicolás Andrade
FESTIVALS & SALES
María Vera (Kino Rebelde)