Lynne Sachs • U.S. • 2015 • 5 min.
Lynne Sachs
U.S. • 2015 • 5 min.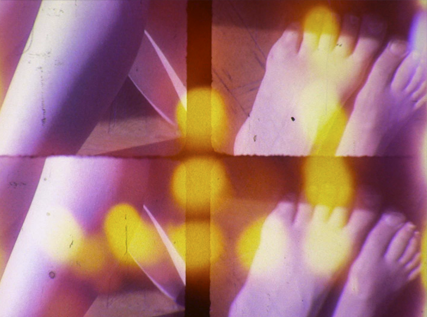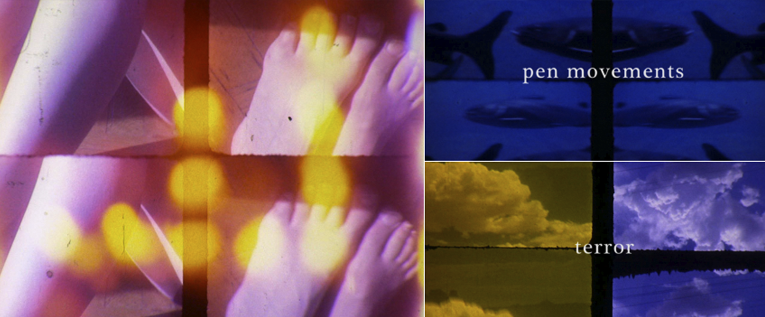 Poetry watches film. Film reads poetry. Paolo Javier's text is a catalyst for the digital sculpting of an 8mm Kodachrome canvas. Syntactical ruptures and the celebration of nouns illuminate twenty-five years of rediscovered film journeys.
Third Place Jury Award
Black Maria Film Festival
FESTIVALS & ALTERNATIVE SCREENINGS
Transient Visions Festival of the Moving Image. U.S.
Anti-Matter Media Arts Festival. Canada
Haverhill Experimental Film Festival. U.S.
Anthology Film Archives, Spectacle Theater. U.S.
San Francisco Film Festival. U.S.
Bay Area Book Festival. U.S.
Images Contre la Nature. France
Los Angeles Center for the Digital Arts. U.S.
Korean Society of Media Arts, Seoul. South Korea.
Festival Experimental Rio de Janeiro. Brazil
Kino Palais & Lumiton Museo del Cine Buenos Aires. Argentina
Cámara Lúcida · Encuentros Cinematográficos. Ecuador
Revolutions per Minute Film Festival. U.S.
Cork Int'l Film Festival | aemi |  Artist in Focus: Lynne Sachs. Ireland (2021)
International Short Film Festival Oberhausen | Profile programme: Lynne Sachs • Curated by Cíntia Gil. Germany (2023)