THE HOUSE OF SCIENCE: A MUSEUM OF FALSE FACTS
Lynne Sachs • U.S. • 1991 • 30 min.
Lynne Sachs
U.S. • 1991 • 30 min.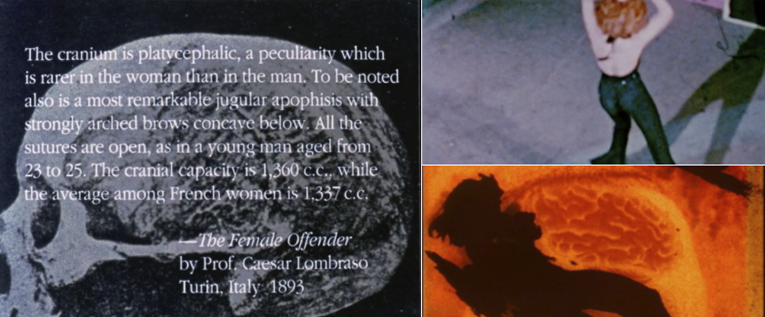 An image of a woman, her brain revealed, is a leitmotif.  It suggests that the mind/body split so characteristic of Western thought is particularly troubling for women, who may feel themselves moving between the territories of the film's title – house, science, and museum, or private, public and idealized space – without wholly inhabiting any of them. 
This film explores society's representation and conceptualization of women through home movies, personal reminiscences, staged scenes, found footage and voice.
First Prize for Experimental Film
Charlotte Film Festival. U.S.
Honorable Mention Experimental
Atlanta Film Festival. U.S.
Jury Award
Black Maria Film Fest. U.S.
"Teffen Filter" Award
Humbolt Film Festival. U.S.
First Prize Short Film
Utah Film Festival
Experimental Prize
Athens Film Festival. U.S.
Hallwalls Contemporary Arts Center. U.S.
MoMA / Museum of Modern Art's Cineprobe Program. U.S.
International Audiovisual Experimental Festival, Arnheim. Netherlands
Portland Museum of Art / "Icons, Rebels and Visionaries". U.S.
Melbourne International Film Festival. Australia
Oberhausen International Short Film Festival. Germany
Museum of the Moving Image, NYC. U.S.