THE HOUSE OF SCIENCE: A MUSEUM OF FALSE FACTS
Lynne Sachs • U.S. • 1991 • 30 min.
Lynne Sachs
U.S. • 1991 • 30 min.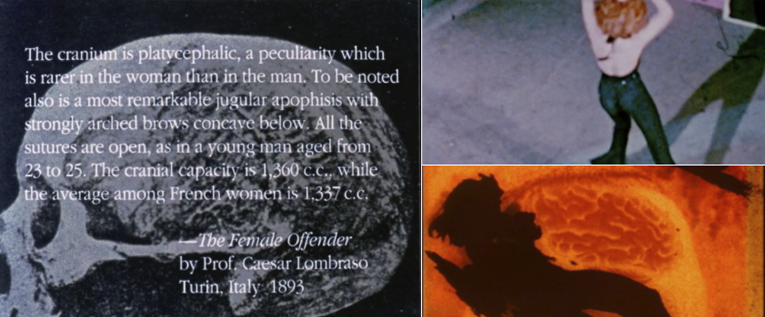 A defiant feminist mosaic on the ways that science enters our culture and defines what it is to be a woman. At age 30, Lynne Sachs wondered why so much about our culture simply made her feel bad about her body. She wrote in her diary, shot film with her friends and collected archival footage from educational films on menstruation and child birth.
By giving new meaning to the "body of the body" and the "body of the mind", she works to dismantle those stereotypes of women rooted in Western patriarchy.
First Prize for Experimental Film
Charlotte Film Festival. U.S.
Honorable Mention Experimental
Atlanta Film Festival. U.S.
Jury Award
Black Maria Film Fest. U.S.
"Teffen Filter" Award
Humbolt Film Festival. U.S.
First Prize Short Film
Utah Film Festival
Experimental Prize
Athens Film Festival. U.S.
FESTIVALS & ALTERNATIVE SCREENINGS
Hallwalls Contemporary Arts Center. U.S.
MoMA / Museum of Modern Art's Cineprobe Program. U.S.
International Audiovisual Experimental Festival, Arnheim. Netherlands
Portland Museum of Art / "Icons, Rebels and Visionaries". U.S.
Melbourne International Film Festival. Australia
Oberhausen International Short Film Festival. Germany
Museum of the Moving Image, NYC. U.S.
Cámara Lúcida Festival Int'l de Cine Contemporáneo | Mirada Epicentro: Lynne Sachs. Ecuador (2021)
Cork Int'l Film Festival | aemi |  Artist in Focus: Lynne Sachs. Ireland (2021)
Costa Rica International Film Festival | Retrospective: Lynne Sachs. Costa Rica (2022)
A4 | Space for Contemporary Culture, Bratislava • Minizoom Lynne Sachs. Slovenia (2022)
International Short Film Festival Oberhausen | Profile programme: Lynne Sachs • Curated by Cíntia Gil. Germany (2023)