WITH THEIR BACKS TO THE SKY
Erik Nuding • Madagascar, United States, United Kingdom • 2024 • 70 min.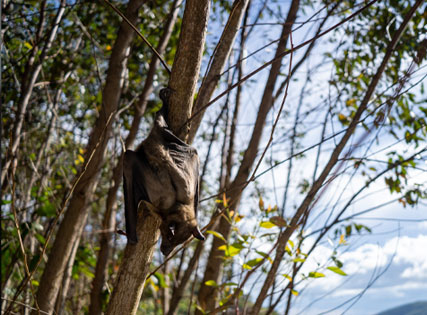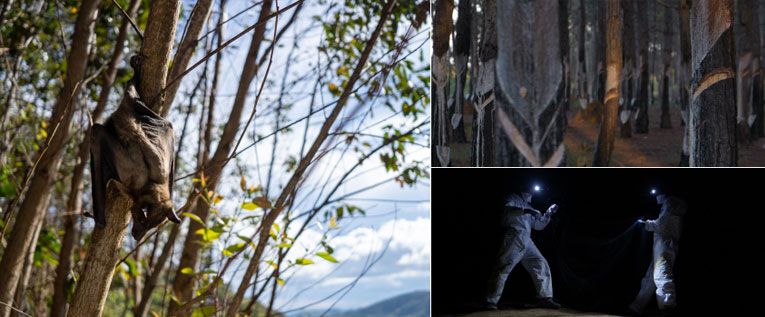 Bridging bat disease ecology and conservation, "With Their Backs To The Sky" invites us into the tightly entangled lives of bat catchers, field biologists and old-world fruit bats within the heavily exploited forest ecosystems of Madagascar.
A collaborative collection of images and sounds framed by storms that flood, mudslides that flatten and fires that consume.  Tireless efforts ensue.
Buffet Institute for Global Affairs: Climate Crisis and Media Arts. United States (2022)
DIRECTOR
Erik Nuding
EXECUTIVE PRODUCERS
Keith Wilson
Youssef Boucetta
SCREENWRITERS
Angelo Andrianiaina
Albert "Rabetsy" Rakotonirina
Tojo Ravalomanana
Dadah Rakotoniaina
Santino Andry
PRODUCERS
Kendall Fitzgerald
Angelo Andrianiaina
DIRECTOR OF PHOTOGRAPHY
Erik Nuding
ADDITIONAL PHOTOGRAPHY
Dominic Daniels
EDITING
Erik Nuding
PROJECT DEVELOPMENT
CONSULTANTS
María Vera (Kino Rebelde)
J.P Sniadecki