OR A MAN SCREAMING IS NOT A DANCING BEAR
JOVENS INFELIZES
O UM HOMEM QUE GRITA NÃO É UM URSO QUE DANÇA
JOVENS INFELIZES
O UM HOMEM QUE GRITA
NÃO É UM URSO QUE DANÇA
Thiago B. Mendonça • Brazil • 2016 • 127 min.
Thiago B. Mendonça
Brazil • 2016 • 127 min.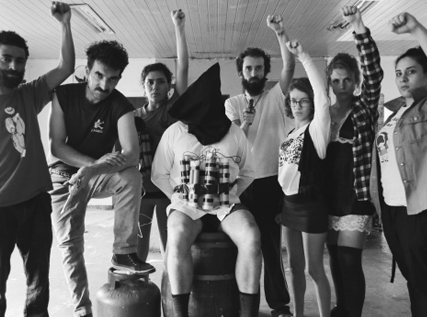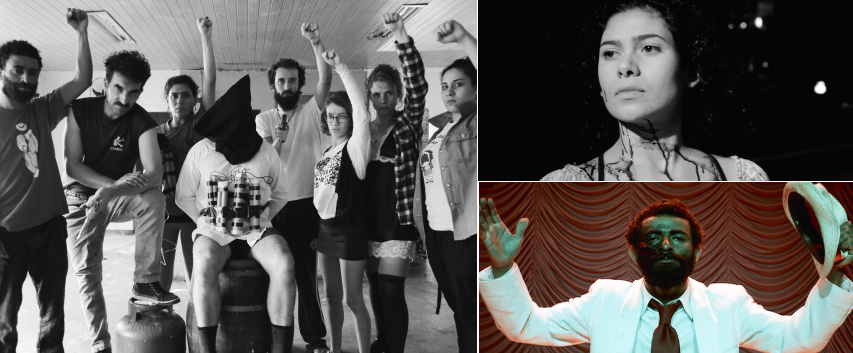 "To start again, destruction is a must".
A group of artists test the borders between art and life. Combining theatre, music and performances in public spaces, they try to create a revolutionary consciousness. As the horizon narrows in a society that becomes more and more authoritarian, they feel impelled to look for the last and greatest aesthetic act. The movie is a metaphor of the contemporary Brazilian youth and their political horizon, inspired in an essay by Pier Paolo Pasolini and by the revolutionary poetry of Aimé Cesaire.
Best Film
Mostra de Cinema de Tiradentes. Brazil (2016)
Best Narrative Feature Film
Lisbon International Film Festival. Portugal (2017)
Best Feature Film
FICIC Cosquín Int'l Independent Film Festival. Argentina (2017)
Best Experimental Feature Film
Ciudad de México International Film Festival. (2017)
FESTIVALS & ALTERNATIVE SCREENINGS
Festival de Cinema da Bienal Int'l de Curitiba. Brazil (2016)
Panorama Internacional Coisa de Cinema. Brazil (2016)
Cine Esquema Novo. Brazil (2016)
Filmfest Hamburg. Germany (2016)
Lume International Film Festival. Brazil (2017)
Cinecipó Festival de Cinema Insurgente. Brazil (2017)
Radical Film Festival. Bolivia (2017)
Frontera Sur Non Fiction International Film Festival. Chile (2017)
International Film Festival of Kerala. India (2017)
Mostra de Cine Livre. Brazil (2017)
Transcinema, International Film Festival. Peru (2017)
Liverpool Radical Film Festival. UK (2018)
Philosophical Film Festival. Macedonia (2018)
Cine Las Américas, International Film Festival. U.S. (2018)
Viennale International Film Festival. Austria (2019)
DIRECTOR
Thiago B. Mendonça
SCREENWRITER
Thiago B. Mendonça
EXECUTIVE PRODUCER
Renata Jardim
HEAD OF PRODUCTION
Adriana Barbosa
Marco Escrivão
PRODUCER
Laura Calasans
Dráusio Mandia
Leandro Safatle
ASSISTANT DIRECTOR
Marco Escrivão
Amina Jorge
DIRECTOR OF PHOTOGRAPHY
André Moncaio
CAMERA
Fernando Cirillo
CAMERA ASSISTANTS
Luis Augusto Moura
Ronaldo Dimmer
DIRECT SOUND
Samuel Gambini
SOUND ASSISTANT
Valdilho Oliveira
ORIGINAL SOUNDTRACK
Kiko Dinucci
EDITING
Thiago B. Mendonça
ART DIRECTORS
Bira Nogueira
Cris Pereira Rodrigues
COSTUME DESIGN & MAKEUP
Laura Calasans
MAKEUP FX
Joana Botelho
CHOREOGRAPHY
Amanda Santos
CAST
Alex Rocha
Camila Urbano
Cel Oliveira
Clarissa Mose
Ieltxu Ortueta Martins
Rafaela Penteado
Renan Rovida
PRODUCED BY
Memória Viva Cinema