Marilina Giménez • Argentina • 2018 • 83 min.
Marilina Giménez
Argentina • 2018 • 83 min.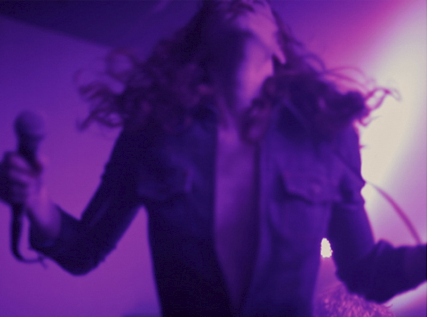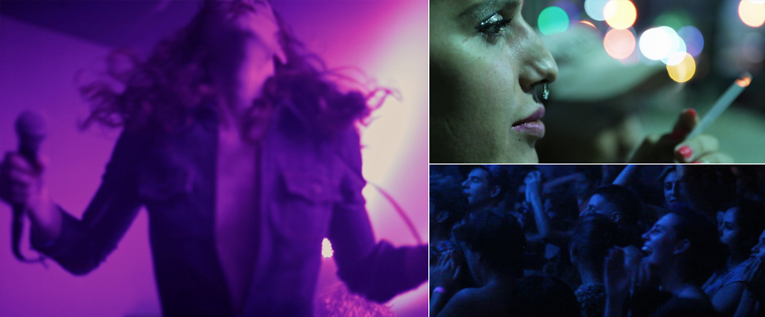 "I changed the bass for the camera," says Marilina Giménez, who until 2013 and for six years played in the band Yilet with two girlfriends. That is the framework in which her autobiographical and choral documentary film was conceived. Its gender perspective confronts several dilemmas: Which is the women's role in the current music scene? What happens when women make the music they choose? What happens when their bodies on stage are sensual and aggressive?
A night tour through Buenos Aires, where different voices are part of "A Girl's Band". Come and dance.
Best Documentary Film
Queer Lisboa, International Film Festival. Portugal (2019)
Special Mention
Construir Cine. Argentina (2020)
FESTIVALS & ALTERNATIVE SCREENINGS
Mar del Plata International Film Festival. Argentina (2018)
IFFR International Film Festival Rotterdam. Netherlands (2019)
Curaçao IFFR Rotterdam. Curaçao (2019)
FRAMELINE, San Francisco International LGBTQ Film Festival. U.S. (2019)
Espacio Queer. Argentina (2019)
Tucumán Cine. Argentina (2019)
GAZE LGBT Film Festival. Ireland (2019)
FIDBA, Buenos Aires Int'l Documentary Film Festival. Argentina (2019)
Film POP · POP Montréal Music Festival. Canada (2019)
SoundTrack_Cologne. Germany (2019)
Lima Film Festival. Peru (2019)
Some Prefer Cake, Bologna Lesbian Film Festival. Italy (2019)
PANORAMICA, Stockholm Latin American Film Festival. Sweden (2019)
Malmö Latin American Film Festival. Sweden (2019)
Nuremberg International Human Rights Film Festival. Germany (2019)
Luststreifen Film Festival Basel. Switzerland (2019)
Déli-Doku, Latin American Film Festival. Hungary (2019)
VoxFeminae Film Festival. Croatia (2019)
Everybody's Perfect LGBTQ Film Festival. Switzerland (2019)
Cinemaissí, Latin American Film Festival. Finland (2019)
Truenorayo Fest. Spain (2019)
Scottish Queer International Film Festival. Scotland (2019)
Chéries-Chéris, Festival du Film LGBTQI+. France (2019)
Queersitch Lesbisch-Schwules FilmFestival. Switzerland (2019)
RIZOMA Festival. Spain (2019)
Soundwatch Berlin Music Film Festival. Germany (2019)
MIRA Latin American Film Festival. Germany (2019)
Chronic Youth Film Festival. UK (2020)
IFEMA, International Female Film Festival Malmö. Sweden (2020)
Mov(i)e Activism Rijeka / Prishtina. Croatia / Kosovo (2020)
Latin American Days Leipzig/Halle. Germany (2020)
UNERHÖRT! Music Film Festival. Germany (2020)
Pink Screens Brussels Queer Film Festival. Belgium (2020)
Norient Film Festival. Switzerland (2021)
Musical Écran, Festival de Documentaires Musicaux. France (2021)
Bios Cultural Organization • "Promising Young Women" by Kino Athens. Greece (2022)
PREÁMBULO Centro de Cine • Ciclo "Perreo, bandas y revoluciones". Costa Rica (2022)
Festival Résistances. France (2022)
Llamale H Festival Int'l de Cine sobre Diversidad Sexual y de Género. Uruguay (2022)
Mawjoudin Queer Film Festival. Tunisia (2022)

DIRECTOR
Marilina Giménez
SCREENWRITERS
Marilina Giménez
Lucía Cavallotti
EXECUTIVE PRODUCER
Florencia Jaworowski
PRODUCERS
Marilina Giménez
Florencia Jaworowski
ASSISTANT DIRECTOR
Florencia Vogliano
DIRECTOR OF PHOTOGRAPHY
Pablo Vieitez
DIRECTOR OF PHOTOGRAPHY
(INTERVIEWS)
Manuel Mazzaro
DIRECTOR OF SOUND
Sofía Straface
DIRECT SOUND
Marilina Giménez
Florencia Vogliano
EDITING
Julia Straface
COLOR GRADING
Ada Frontini
ART DESIGN
Agustín Ceretti
THE BANDS
Chocolate Remix
Ibiza Pareo
Kobra Kei
Kumbia Queers
Las Kellies
Las Taradas
Liers
Miss Bolivia
Sasha Sathya
She Devils
Yilet
FESTIVALS & SALES
María Vera (Kino Rebelde)