CAROLEE, BARBARA AND GUNVOR
Lynne Sachs • U.S. • 2018 • 8 min.
Lynne Sachs
U.S. • 2018 • 8 min.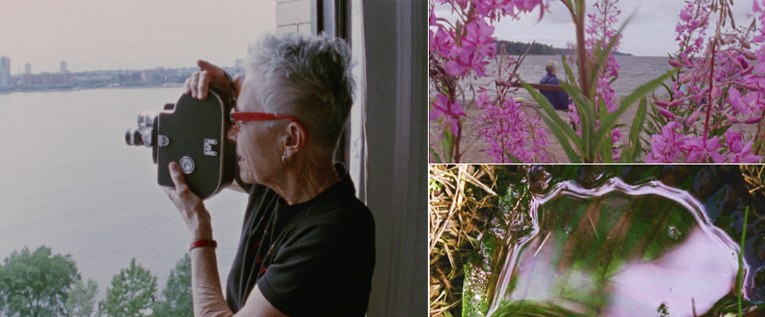 From 2015 to 2017, Lynne visited with Carolee Schneemann, Barbara Hammer and Gunvor Nelson, three multi-faceted artists who have embraced the moving image throughout their lives. From Carolee's 18th Century house in the woods of Upstate New York to Barbara's West Village studio to Gunvor's childhood village in Sweden, Lynne celebrates each woman in the place where she finds grounding and spark.
Best of Festival Award
Onion City Experimental Film Festival. U.S. (2018)
Jury Prize
Festival de Curtas Belo Horizante. Brazil (2018)
Jury Award
Black Maria Film Festival. U.S. (2018)
FESTIVALS & ALTERNATIVE SCREENINGS
MoMA Doc Fortnight. U.S. (2018)
Los Angeles Film Forum. U.S. (2018)
Filmoteca Española | Madrid. Spain (2018)
Xcèntric Center of Contemporary Culture of Barcelona. Spain (2018)
Cosmic Ray Film Festival. U.S. (2018)
Oberhausen International Film Festival. Germany (2018)
Athens Film and Video Festival. U.S. (2018)
Edinburgh Film Festival. UK (2018)
Hamburg International Queer Film Festival. Germany. (2018)
Pacific Film Archive | Berkeley Art Museum. U.S. (2018)
Woodstock Film Festival. U.S. (2018)
Mill Valley Film Festival. U.S. (2018)
Ji.hlava Film Festival. Czech Republic (2018)
Viennale. Austria (2018)
Antimatter Media Arts Festival. Canada (2018)
London Short Film Festival. UK (2018)
National Gallery of Art | Washington DC. U.S. (2018)
Queer Art Film | IFC Center, NY. U.S. (2018)
Art of the Real, Lincoln Center. U.S. (2018)
XPOSED International Queer Film Festival Berlin. Germany (2018)
LUX & Club des Femmes | Evidentiary Bodies: Celebrating Barbara Hammer & Carolee Schneemann, London. UK (2018)
Museo de Arte Moderno Buenos Aires. Argentina (2019)
MUTA, International Audio Visual Appropriation Festival. Peru (2019)
Arteria, Cultural Information Centre, Zagreb. Croatia (2019)
Barbican Centre, London. UK (2020)
Cámara Lúcida Festival Int'l de Cine Contemporáneo | Mirada Epicentro: Lynne Sachs. Ecuador (2021)
Frankfurt Women's Film Days | Kinothek Asta Nielsen. Germany (2021)
Cork Int'l Film Festival | aemi |  Artist in Focus: Lynne Sachs. Ireland (2021)
Costa Rica International Film Festival | Retrospective: Lynne Sachs. Costa Rica (2022)
A4 | Space for Contemporary Culture, Bratislava • Minizoom Lynne Sachs. Slovenia (2022)
a  p  o  t  e  k  a • Space for Contemporary Art, Zagreb. Croatia (2022)