PLAYBACK. ENSAYO DE UNA DESPEDIDA
Agustina Comedi • Argentina • 2019 • 14 min.
Agustina Comedi
Argentina • 2019 • 14 min.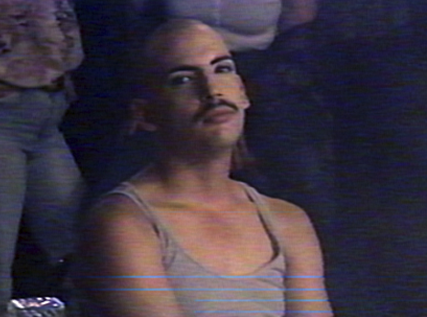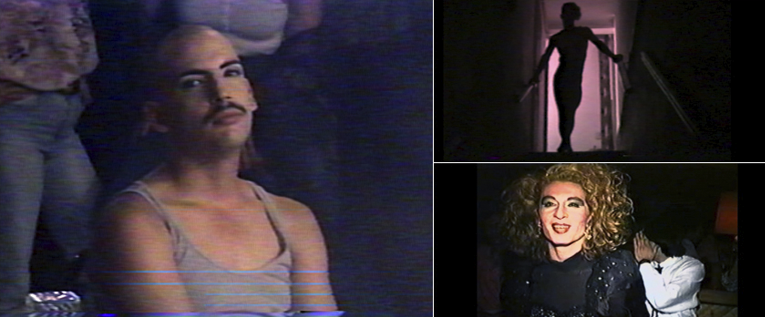 In Córdoba, far away from Argentina's capital city, the end of a military regime promises a spring that doesn't last long. "La Delpi" is the only survivor from a group of transgender women and drag queens, who began to die of AIDS in the late 80's. In a catholic and conservative city, the Kalas Group made their weapons and trenches out of improvised dresses and playbacks. Today the images of a unique and unknown footage are not only a farewell letter, but also a friendship manifesto.
Best Short Film / National Competition
Mar del Plata International Film Festival. Argentina (2019)
Teddy Award to Best Short Film
Berlinale, Berlin International Film Festival. Germany (2020)
Special Mention of the Jury
Kreivės Vilnius Queer Festival. Lithuania (2020)
Audience Award / National Short Film Competition
FestiFreak International Independent Film Festival. Argentina (2020)
"André S. Labarthe Award" for Best Short Film
Entrevues Belfort International Film Festival. France (2020)
Best Documentary Short Film
Premios Cóndor. Argentina (2020)
Best Queer Short
International Shorts Competition Sicilia Queer Filmfest. Italy (2021)
FESTIVALS & ALTERNATIVE SCREENINGS
Punto de Vista International Documentary Film Festival. Spain (2020)
Thessaloniki International Documentary Film Festival. Greece (2020)
Hot Docs Canadian International Documentary Film Festival. Canada (2020)
Jeonju International Film Festival. South Korea (2020)
Barcelona International Women's Film Festival. Spain (2020)
Sheffield Doc/Fest. UK (2020)
Foco: Eskolatik · Tabakalera | Silence Is a Falling Body + Playback. Spain (2020)
Two Riversides Film and Art Festival. Poland (2020)
Melbourne International Film Festival. Australia (2020)
DokuFest International Documentary and Short Film Festival. Kosovo (2020)
Concorto Film Festival. Italy (2020)
Kyiv Molodist International Film Festival. Ukraine (2020)
Le Cinéma sous les étoiles de Funambules Médias. Canada (2020)
FIDBA Buenos Aires International Documentary Film Festival. Argentina (2020)
FRAMELINE, San Francisco International LGBTQ+ Film Festival. U.S. (2020)
Vancouver International Film Festival. Canada (2020)
Calgary International Film Festival. Canada (2020)
Camden International Film Festival. U.S. (2020)
Curtocircuito International Film Festival. Spain (2020)
Black Canvas Contemporary Film Festival. Mexico (2020)
Olhar de Cinema, Curitiba International Film Festival. Brazil (2020)
FicValdivia, Valdivia International Film Festival. Chile (2020)
Everybody's Perfect LGBTQ Film Festival. Switzerland (2020)
Festival MAMUT + Rara Audiovisual. Colombia (2020)
Ciclo Rosa. Colombia (2020)
Doclisboa International Film Festival. Portugal (2020)
TOFIFEST International Film Festival. Poland (2020)
Beijing Queer Film Festival. China (2020)
Cámara Lúcida · Encuentros Cinematográficos. Ecuador (2020)
KurzFilm Festival Hamburg. Germany (2020)
Antofacine International Film Festival. Chile (2020)
Leeds International Film Festival. UK (2020)
Asterisco, International LGBTQ Film Festival. Argentina (2020)
Saigon Experimental Film Festival. Vietnam (2020)
FILMAR en América Latina. Switzerland (2020)
Fringe! Queer Film Fest. UK (2020)
Reel Q Film Festival. U.S. (2020)
Bucharest International Experimental Film Festival. Romania (2020)
Festival de Cine Radical. Bolivia (2020)
International Film Festival of Uruguay (2020)
Docs in Exile Festival. Greece (2020)
Merlinka International Queer Film Festival. Serbia (2020)
Beijing International Shorts Film Festival. China (2020)
New Directors / New Films Festival, Lincoln Center. U.S. (2020)
DocumentaMadrid International Documentary Film Festival. Spain (2020)
Transcinema International Film Festival. Peru (2020-2021)
Nan Goldin Selects: Playback & Silence Is a Falling Body | Metrograph Cinema, NYC. U.S. (2021)
Athena Film Festival. U.S. (2021)
IBIZACINEFEST International Independent Film Festival. Spain (2021)
Rencontres Internationales Paris/Berlin · Louvre Museum. France (2021)
FIFA International Festival of Films on Art. Canada (2021)
Beirut Queer Film Festival. Lebanon (2021)
INVASION Das Argentinische Filmfestival. Germany (2021)
La Fête du Slip Film Festival des Sexualités. Switzerland (2021)
VoxFeminae Festival. Croatia (2021)
Sol de Maio: Ciclo De Cinema Argentino | Cinema Trinidade, Porto. Portugal (2021)
Le Chien qui Aboie · Diffusion du Cinéma d'Amérique Latine. France (2021)
Short Waves Film Festival | Spotlight: Kino Rebelde. Poland (2021)
Korea Queer Film Festival. South Korea (2021)
Chéries-Chéris, Festival du Film LGBTQI+. France (2021)
Filmfest Dresden International Short Film Festival. Germany (2021)
Cinemateca de Bogotá | Programa "El fin de la familia". Colombia (2021)
Festival Tucumán Cine. Argentina (2021)
Les Mains Gauches Queer Feminist Short Movies. France (2021)
XPOSED Queer Film Festival Berlin. Germany (2021)
Antwerp Queer Arts Festival. Belgium (2021)
Rooftop Film Festival. U.S. (2021)
Belfast Film Festival | aemi @ Docs Ireland: The Films of Kino Rebelde. Ireland (2021)
FICVIÑA, Viña del Mar International Film Festival. Chile (2021)
Cortópolis Latin American Short Film Festival. Argentina (2021)
GRABA. Festival Audiovisual. Argentina (2021)
IMPAKT Festival Exhibition | MODERN LOVE. Netherlands (2021)
VISIBLE EVIDENCE | Decolonial archives, dissident bodies and emerging communities. Germany (2021)
PERA MUSEUM | World AIDS Day-special film screening: I'M HERE! Turkey (2021)
PinX LGBTQIA+ filmfestival. Belgium (2022)
Centro Cultural Kirchner • Ciclo de cine: "Lo personal es político". Argentina (2022)
Rio LGBTQIA+ Festival de Cinema. Brazil (2022)
Cineteca Nacional. Mexico (2022)
Queer Film Festival Utrecht. Netherlands (2022)
Harvard Film Archive. United States (2022)
Llamale H Festival Int'l de Cine sobre Diversidad Sexual y de Género. Uruguay (2022)
Archivio Aperto | Focus curated by Found Footage Magazine. Italy (2022)
TAVROS, Athens | "Revolution is not a One Time Event" Presented by Nionia Films. Greece (2023)
Boîtes noires, écrans blancs • Cinéma et archives des didactures latino-américaines | Université Sorbonne Nouvelle. France (2023)
Brooklyn Academy of Music (BAM) • Film Series: "Let The Record Show: Archived Cinema" Curated by Jessica Green. United States (2023)
Batalha Centro de Cinema, Porto. Portugal (2023)
Artistic Differences by UnionDocs. Spain + United States (2023)
DIRECTOR
Agustina Comedi
SCREENWRITER
Agustina Comedi
PRODUCER
Magalí Mérida
DIRECTOR OF PHOTOGRAPHY
Magalí Mérida
SOUND DESIGN
Guido Deniro
PRODUCER MANAGER
Ana Lucía Frau
DIRECTORS OF ART
Federico Tapia
Martín Paolorossi
EDITING
Valeria Racioppi
CAST
Marcos García
La Delpi
Martín Shanly
DIRECTOR OF
ACTORS & ACTRESSES
Paula Ailén Belli
COLOR GRADING
Ada Frontini
VFX
Bruno Fauceglia
COSTUMES DESIGNER
Romina Gutiérrez
MAKEUP
Eva Perea
FESTIVALS & SALES
María Vera (Kino Rebelde)